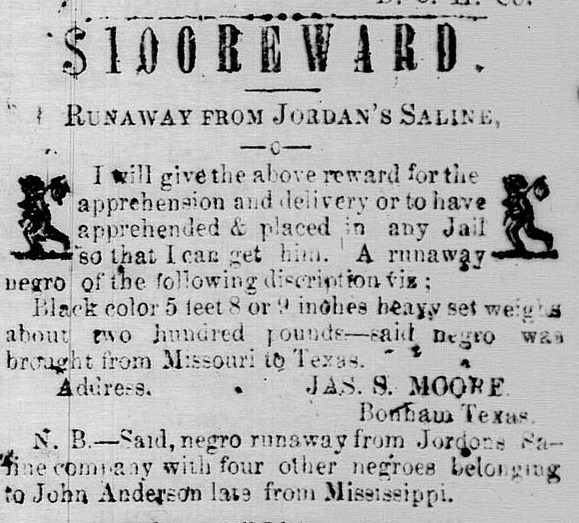 Dublin Core
Title
Ad for Runaways from Jordan's Saline, July 4, 1863
Description
An advertisement mentioning five slaves who have run away from Jordan's Saline. Internal evidence suggests they were "refugeed" into the state by white enslavers from Missouri and Mississippi.
Creator
Clarksville Standard, vol. 20, no. 9, July 4, 1863
Publisher
This item was clipped from a digital image published by the
Portal to Texas History
. Published here by W. Caleb McDaniel
Rights
This item is believed to be in the public domain. No copyright in the item is asserted or implied by its publication here.
Identifier
516CCDEF-D7BA-4167-8145-A16ABCF10933
Document Item Type Metadata
Text
$100 Reward.

Runaway from Jordan's Saline,

--C---

I will give the above reward for the apprehension and delivery or to have apprehended & placed in any Jail so that I can get him. A runaway negro of the following discription [sic] viz;

Black color 5 feet 8 or 9 inches heavy set weighs about two hundred pounds---said negro was brought from Missouri to Texas.

JAS. S. MOORE
Bonham Texas

N. B.---Said, negro runaway from Jordons Saline company with four other negroes belonging to John Anderson late from Mississippi.
Document Viewer