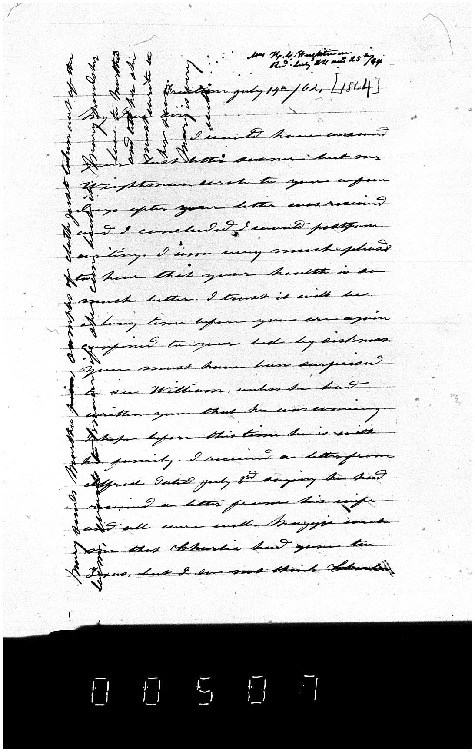 Dublin Core
Title
Harriet Weeks to John C. Moore, July 14, 1864
Description
Allie Weeks, now married to Thomas Weightman, reports on their concern about high rates of taxes, despite the good crop, and also says that her husband has gone to Jordan's Saline to haul salt. She also complains that Texas people are getting the best of her overseer Mr. Rawlins in the bargains that he is making.
Publisher
Published here by W. Caleb McDaniel
Rights
This item is published solely for personal research and nonprofit educational use under the terms of fair use. No copyright in the item is asserted or implied by its publication here.
Identifier
8C646FF9-F585-4D27-AB17-AA2EC35F9449
Document Item Type Metadata
Text
[partial transcription] ... I am truly glad to hear that you have so fine a crop. It is very necessary to all, and particularly to refugees. The taxes are coming down on us so heavily, I don't know what we will do. They made us pay a tax of [near?] six hundred dollars on the wheat we got last year for the hire of our negroes. I believe government has taken most of it, and they I believe allow us $3 a bushel, and we were taxed at the rate of [illegible amount] a bushel. Mr. W. paid it under protest and has written to Mr. [Gray?] secreatry of treasury for this Department. ... For refugees that are making nothing it [comes?] right hard. ... Mr. Weightman leaves in the morning for the Jordan Saline, in search of salt. He hauls six thousand lbs., & gets one third for hauling. If he gets back safely it will be a very good bargain. Salt is very high now, and 2000 lbs will last us a long time, but it is a long [hard?] trip to take now. It is over 100 miles from here. ...
Document Viewer